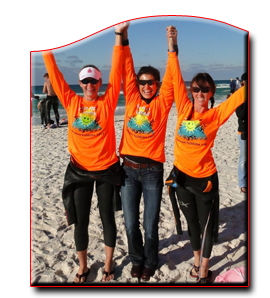 About Dara
I have been a multi-sport coach since 2001 and have trained hundreds of athletes for whom triathlon, running, biking, swimming, fitness and health must fit into very busy lives. My clientele includes lawyers, doctors, full time mothers, office workers, school teachers, nurses, and entrepreneurs – and every one of them has a jam packed schedule. My goal is to help each athlete strike a balance between training to their maximum potential and balancing all the various aspects of their lives, as well as to provide all the information they need to perform at their best and stay healthy and injury free. Over the years, my clients have done everything from complete their first 5k or sprint triathlon to qualify for the Boston Marathon and win age group awards in Ironman triathlons and National Championships in Jet Ski racing!
I achieved a master's degree in Exercise Physiology so that I can provide the most current and accurate information and training strategies for my clients. I continuously look for opportunities to learn more about sports training, coaching and general fitness and health so that I may share this knowledge and expertise with my clients. I am truly passionate about coaching and living a healthy and athletic lifestyle.
TriCoachDara's Philosophy
My mission is to provide my athletes with the individual attention each deserves to best help him or her attain their training and racing goals. Through my own coaching and racing experience, network of resources, and ongoing education, I aim to provide my athletes with the knowledge and skills they need for all aspects of successful triathlon, cycling, running, and swimming. My mission is to use my accredited studies, personal experience of racing and training athletes of all levels, and passion for athleticism to help my athletes reach their goals and potential, regardless of age, gender, or experience level. And I vow to make it all fun!
My vision is to be known as a world class coach; as one who comes to the table with what you want and need as an age group athlete: experience, knowledge, adaptability, sensitivity, and wisdom.
Academic Achievements:
2010 – Master's Degree in Exercise Physiology
2009 – Certified Sports Nutritionist from the International Society of Sports Nutrition
2005 – USA Triathlon Level II certified coach
2005 – USA Cycling certified expert coach
2005 – RRCA certified running coach
2003 – USA Track & Field Level I certified coach
2003 – USAC club coach
2003 – Accepted for Master's in Exercise Physiology at UNC-Chapel Hill. Full scholarship and teaching assistantship.
2002 – Advanced Personal Fitness Trainer designation from IDEA
2001 – USAT level 1 certification
1998 – Personal Trainer Certification from American Council on Exercise
1998 – Graduated NC State University; graduated Summa Cum Laude, B.A. Psychology
Experience:
2012- Presenter at USATriathlon's Art and Science of Coaching Symposium.
2011 to the present: Adjunct instructor at Florida Atlantic University in the Exercise Science Department.
2007 to the present: founder, owner and coach for TriCoachDara- providing multi-sport coaching for athletes of all levels (from beginner to nationally ranked age groupers) and all distances.
2001 to 2007, one of the original co-founders and coach with T3Coaching, coaching athletes of all levels and distances of endurance events.
2007 to present: presenter/educator for USA Triathlon Level I coaching/certification clinics.
2007 to present- Speaker for Boca Raton Triathletes.
2007 to present- Triathlon clinics for the beginner and expert alike.
2003 to 2007 contributor to the Ask the Expert of the Healthy Living Section of the Herald Sun Newspaper, Durham, NC.
2003 – 6 month featured columnist on triathlon: Herald Sun Newspaper's, Healthy Living.
2002/2003 – Featured speaker for Running Start program for CGTC.
2001 to 2003 – raised thousands of dollars for a local charity, SNAP-NC, and for the American Red Cross in the wake of the 9/11 disaster by completing the White Lake Half-Ironman Triathlon and the Chicago Marathon respectively.
1998 – present – trained/coached multiple athletes to better performances in running, triathlon, cycling, racquetball, and jet ski racing.
Member of Inaugural Women's National British Fast-pitch Softball team.
2000 – present – completed multiple marathons, century bike rides, and triathlons of all distances, including Ironman.
Next Steps…
Check out my services and don't hesitate to contact me at Dara@TriCoachDara.com or 561-715-7737